Most people want to use a hair system that provides the most natural, undetectable appearance. If this sounds like you, your choice is simple. Newtoupee's many types of hair systems can meet your needs.
NewTouPee offers six basic styles to meet your needs for the most natural-looking units.
Thin Skin Base
The poly skin-like artificial materials, often referred to as "thin skin" wigs because they closely resemble real skin tones.
Depending on the type of poly used, poly substrates can be very durable. And you can use hair tapes and hair glue to secure it more easily. According to the thickness of the different, the use of time is not the same, the thicker PU will last longer, but at the same time the air permeability is relatively poor.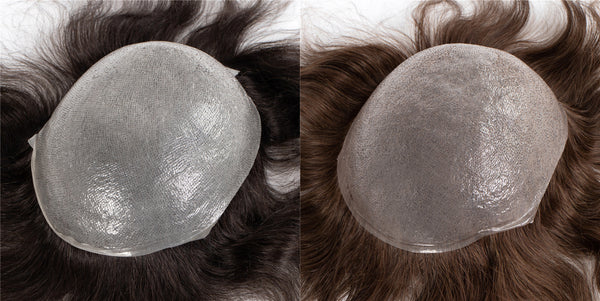 Full Lace Base
Made entirely of mesh fabric or lace material, these hair systems are the hottest trend in the hair care industry that is lightest, most breathable and offers the most natural look. The complete lace hair system can be made from many different types of lace materials to improve durability, but has a limited service life and requires regular replacement.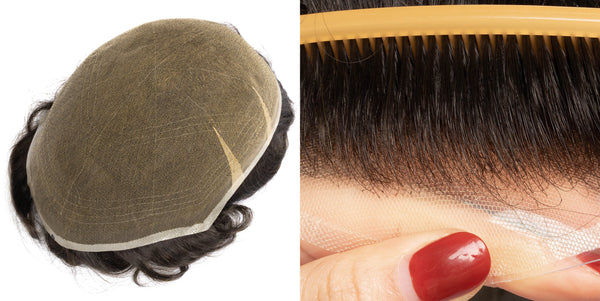 Lace With PU Base
In order to achieve the natural look of the entire lace hair system and provide longer service life, some combination systems use lace material only in the front and hairline area.These lace with PU hair systems are available in a variety of different designs and materials. PU on the back and top for added strength and durability.


Mono Base
Mono hair systems are very delicate and tear easily. The Mono system base is the most popular type of hair replacement system. They consistently provide natural hair and an imperceptible hairline, while being comfortable and cool.
PU With Mono Base
Made up of Mono and PU, the wigs provide an imperceptible hairline and are comfortable and refreshing to wear. With PU material, it can better fit the skin, and can be easily fixed with hair tapes or hair glue. Create a natural look that best fits your skin.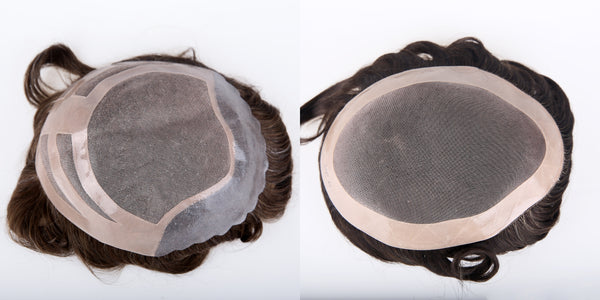 PU/LACE/MONOBase
This type of wig combines the advantages of three kinds of toupee bases, PU enhances the use and binding degree of the wig, the lace at the front provides the most natural appearance for the hairline, and MONO part makes the wig more durable and not easy to lose hair. The downside is that they feel different because of the weight difference between the lace at the front and the PU at the back. Running your finger through your hair will sometimes reveal a small "bump" where the two materials meet.